October

2015

Jon Bergmann was interviewed by The Korea Times.

Click HERE to read the full article.

September

2015

Blackboard invited Jon Bergmann to write a guest blog post on their website:  "What Academic Leaders Should Know About Flipped Learning."

Click HERE to read the blog post

September

2015

Jon Bergmann is interviewed by the first all-English radio station in Seoul ( Korea ).  The radio segment is called "This Morning with Alex Jensen."

Click HERE to listen or download this interview from iTunes.

September

2015

Jon Bergmann keynotes at the Global Education Forum in South Korea.

Click HERE to view the short televised news video segment.

September

2015

Jon Bergmann is interviewed in this article from The Korean Hearld.  Click HERE for the full article.

Education for the "You Tube Generation"

September
2015   

Jon Bergmann is interviewed in this article from ParentMap.com.  Click HERE for the full article.

Is the Flipped Classroom the Future of Education?

How digital lessons at home and homework in class is turning the conventional classroom on its head.

"What makes the flip good is that it leads to other things," Bergmann says, "it's the pivot point.  Once the teacher gets out of the front of the room, deeper learning strategies happen — strategies that have been around for a long time but don't get used very often because the teachers are stuck in the front of the room."  The flipped model is not simply "sending kids to watch videos without rethinking about what actually happens in the class," Bergmann notes.
August
2015   

Jon Bergmann's arrival in Taiwan prompted press coverage on August 14th as a brief cover story on a large "subway circular."
---
July
2015   
 

ENIAC Magazine, an educational journal focused on technology in education throughout Spain, interviewed Jon Bergmann.
Click HERE to view the full article
June
2015   

John R. Jenkins, Ed. D. recently wrote a research paper titled, "Student Perspectives of the Flipped Learning Model" that references Jon Bergmann & Aaron Sams' work.




( The following text was excerped from the original research paper.  Click 

HERE

 to read the full paper. )
Abstract
The purpose of the study was to identify the benefits of a flipped learning classroom environment at the university level.
The following qualitative research project involved the interviewing of six sophomore students at one private university in Taiwan. Each of the interviewees were interviewed three times following their completion of two flipped learning courses (Advanced Reading and Advanced Writing) taught by the researcher. The purpose of the study was to identify the benefits of a flipped learning classroom environment at the university level. Identifying the effectiveness, or lack thereof, of such an approach to classroom organization and participation will assist professionals in determining the value of flipped learning at the university level. Five themes emerged from the interviews with the participants who shared similar views concerning these themes. The results included ideas related to the variety of methodologies employed in and out of the classroom, the individualized help received during the in-class work time, and the benefit of learning to cooperative with classmates including the enjoyment of working with others and making more friends in the class. Two themes that persisted in the out-of-class and in-class experiences learning were the ability to self-pace the learning experience and the heightened level of motivation the participants experienced in the flipped learning environment. The flipped learning experience was a positive experience for these participants who all indicated that they "wished all my courses were flipped" as one of the participants indicated during the interviews.
Summary
Each of the six participants were intermediate level English speakers enrolled in an Advanced Writing and an Advanced Reading course both courses of which met twice each week for two 50 minute periods each session.
Thus the participants attended eight hours of flipped classes for an 18 week period during the Fall Semester of 2014. The research questions asked the participants were:
1)    What benefits to a flipped learning environment did you observe while participating in a flipped writing and a flipped reading course?
2)    What difficulties existed in the flipped learning environment did you observe while participating in a flipped writing and a flipped reading course?
3)    How did the instructor's attitudes and activities differ within the flipped classroom environment compared to other courses in which you have participated in the past?
Results
Five themes emerged from the interviews with the participants who shared similar views concerning these themes. The themes included ideas related to the variety of methodologies employed in and out of the classroom, the individualized help received during the in-class work time, and the benefit of learning to cooperative with classmates including the enjoyment of working with others and making more friends in the class.

Two themes that persisted in the out-of-class and in-class experiences learning were the ability to self-pace the learning experience and the heightened level of motivation the participants experienced in the flipped learning environment. The flipped learning experience was a positive experience for these participants who all indicated that they "wished all my courses were flipped" as one of the participants indicated during the interviews.

The use of songs, animation, sub-titles, power point presentations, and other visual aids all enhanced the quality of the learning experience by videos. The colorful presentations were also selected on the basis of their relationship to content of the textbook which reinforced the objectives of the lesson. 

The single most important in-class experience was access to the teacher, an idea referred to by each of the participants.

The students were not engaged in discussions including 20 or 30 other students, but in discussion including 2 or 3 other students at most, and perhaps with the instructor. Asking questions and learning was less intimidating to the students.

The participants indicated that learning to work with others, becoming better acquainted with other students in the classroom, learning to cooperate and collaborate with other students were all important concepts experienced during the course.  

Flipped learning appears to place the students in charge of the educational experiences giving the students more control over the learning environment and more confidence to complete the responsibilities the students were assigned.

Flipped learning promotes a student-centered environment that motivates the students to want to participate and learn.
---
June
2015   
       

Chad Ackerson, author of the Tech Nerd Blog, reviews Jon Bergmann & Aaron Sam's new book.
Thursday, June 18, 2015
I have played with flipping my classroom for a while.  I create screencasts of lessons, and occasionally assign those as "homework," but I have not done the research to really flip the class.
One main reason I have not fully jumped into flipping my classroom is the students who don't have internet access at home.  We still have many students who do not have internet access.  The schools in our district also do not allow the WiFi access to work outside the buildings.  I would like to see that changed so students can go to whichever school is closest at night and sit outside to get internet access to do homework if they do not have internet access at home.
I try to always make myself available before and after school, but that doesn't always work for some families.  Many students have something going on after school every night of the week.  Sports, dance, drama, music, etc.  Because of this, many students have to be picked up right after school.
I am going to work with my administrators to try and make a part of the cafeteria designated to those who need to watch a video or use an online simulation for class during breakfast and lunch.  Our students are not allowed to have their computers on the lunch tables right now because they don't want things getting spilled on them.  However, students who earn a reward time do get to eat lunch in the office and play games on the computers.  I'm hoping that having a designated area with less students than the normal lunch table will be a viable option.
I just finished reading, "Flipped Learning for Science Instruction" by Jonathan Bergmann and Aaron Sams.  It was a great book, easy read (took about 2 hours), and was full of useful information.  There were many "duh, why did I not think of that moments."  They give great examples of how to flip the lessons.  It doesn't have to be a video every night!  They also do a great job of showing ways science teachers can utilize the "reinvented" class time.
When you have students watch the video or use the online simulation, the direct instruction that you would normally do in class is done.  This leaves the class time open for other things.  This "reinvented" class time can be used for small groups of students who did not fully understand the lesson, labs, experiments, project based learning, and many other ways to get your students thinking and understanding on higher levels.  The "reinvented" class time is not just for doing worksheets.  That can be part of it on some days, but finding ways for students to interact with the material and really understand it are more powerful.  If you just switch the direct instruction and the homework time, you did not really flip your class.  You just adjusted the times of activities.
Some of my favorite quotes from the book:
"In a flipped classroom, the teacher is actually more necessary, more needed, and more integral to the learning experience of all students."
"The tyranny of curriculum and the comfort of our old ways often keep us in a rut."
"Instead of spraying the entire class with content, the teacher directs the students who have reached poor conclusions or are developing misconceptions to appropriate content."
"Developing a library of videos and getting quality activities in class will need to be the first priority."
"We need to move away from being disseminators of content and instead become facilitators of learning."
My goal for this year is to create a library of video lessons.  I would like to use EduCanon to create interactive videos.  This website allows you to add questions in the YouTube video.  This will help ensure that students are watching the videos and understanding the content.
I also want to have more hands-on activities and labs to do in class.  With a flipped class, I will be able to have more labs, but also longer labs.  I will have the time to do multi-day labs where I wouldn't have been able to do that in the past.  Utilizing the at home direct instruction will free up more time for in-class exploration.
Bergmann and Sams mentioned that collaboration is key if you have someone teaching similar content and you work well with.  I am lucky enough to have a great teaching partner.  I know that if we work together, Kyle Nabity and I will be able to make a great interactive video library and come up with stellar labs and experiments to allow the students to go higher in their learning.
June
2015   

Australian Publication Discusses the Flipped Classroom & Highlights Jon Bergmann with FlipCon Australia 2015
Click HERE to view the full article
---
May
2015   

Jon Bergmann categorizes and discusses Flipped Learning tools for CampusTechnology.com article
5 Free ( or Low Cost ) Tools for Flipped Learning
From screencasting to interactive presentations, here are some resources to get a flipped class off the ground.
Flipping the classroom typically requires the use of certain technology tools, whether for recording lecture content or for orchestrating classroom discussion.
Jon Bergmann, a pioneer of the flipped classroom and co-creator of FlippedClass.com, categorizes these tools into four different groups: video creation tools, like screencasting software; video hosting tools; interactive tools that help professors check for understanding and foster discussion among students; and learning management systems for tying all of this together.
Some products and services perform more than one of these functions — and a few do all four. FlippedClass.com includes a section with reviews of various flipped learning tools.
CT talked with a number of flipped learning experts, and here are some of their top recommendations for free or low-cost tools to get you started.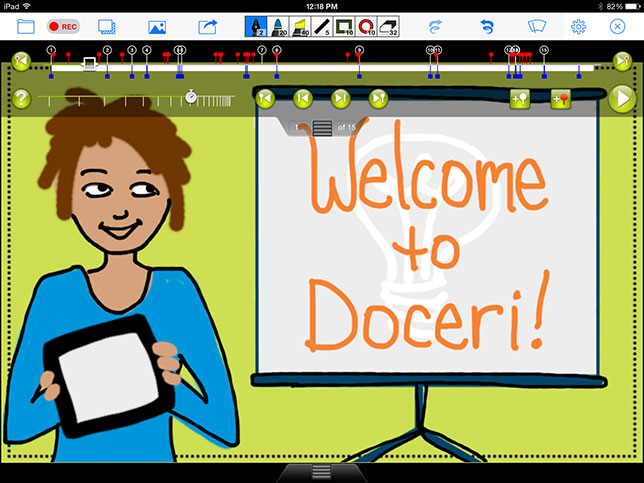 Doceri is a versatile app that lets you create, share, annotate and control presentations, and you can also record and share screencasts. The iPad version is free, and a Windows 8.1 version costs $4.99.
Trying to record voice narration while also recording or annotating a presentation can be challenging, and Doceri simplifies this process with a timeline-based editor that lets you capture a presentation first, then go back and add voice narration where appropriate. You can also pause a recording as many times as you need.
Doceri also gives you many options for uploading or sharing screencasts. You can share a screencast directly to YouTube or Facebook; send it privately as an e-mail attachment; save it to your camera roll; transfer it to your computer via iTunes; upload it to a learning management system or Google Drive; incorporate it into iBooks Author; or import it into iMovie, Adobe Premiere or other video editing software.
With a $30 desktop version of Doceri, you can connect an iPad to your computer, and the software mirrors your computer on the iPad.
"I use Doceri to mirror my iPad screen to the computer screen, and then I use a program called Camtasia to capture the video," said Robert Talbert, a professor of mathematics at Grand Valley State University in Michigan. "A colleague of mine is using just the Doceri app on the iPad to create screencasts, and that costs nothing."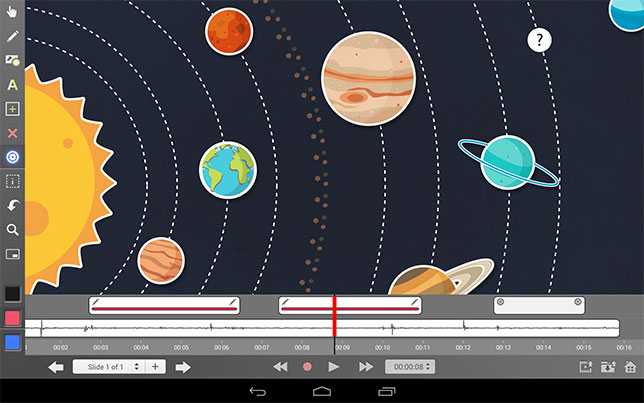 Like Doceri, Explain Everything lets you create presentations or record screencasts to demonstrate a concept. The $2.99 app is available for iOS, Android and Windows 8.1 devices.
Explain Everything allows you to import files, images and videos for use in presentations from a wide variety of formats, including PDF, PowerPoint, Word, Excel, Keynote, Pages and Numbers, as well as RTF files from Evernote, Dropbox, Box, Google Drive, e-mail, iTunes and basically any app that allows you to open these file types using the command "Open In." You can create slides, draw in any color, add shapes or text, and use a laser pointer to annotate the presentation. Then, you can export the file as an MP4 video, PDF document, PNG image or XPL project directly from your device.
Explain Everything is a "go to" app for faculty at The College of New Rochelle(NY), said Emory Craig, director of e-learning and instructional technology. "It's not the only screencasting app out there, but it has definitely worked well for us," he said.
For Windows users, Office Mix is a free add-on that lets you turn PowerPoint presentations into interactive online videos, complete with built-in polls, quizzes and analytics to check for understanding.
Office Mix works on versions of Office 2013 or later, including the free Office 365 for educators. You can record audio or video narration to accompany a presentation —there's a "picture in picture" feature, so students can see you as you're explaining a slide — and you can use an inking tool to annotate slides as you record. You can also add polls or quizzes within a recording.
When you're done recording, you can upload your mix to a free Office Mix hosting portal. From this portal, you can view, manage and share your recording by copying and pasting a URL, using an embed code or clicking a button to share via Facebook, Google Plus, Twitter, Pinterest or LinkedIn. You can also track students' responses to a poll or quiz and see who has viewed a recording. Mixes will play on mobile devices, but the interactive elements may not work on these devices.
According to Bergmann, Office Mix is very useful "because it offers video creation and interaction and hosting — all in one solution."
Screencast-O-Matic is a free browser-based app that lets you create screencasts from a Mac or Windows computer without having to install any software.
With just one click from the Screencast-O-Matic Web site, you can bring up a screen recorder window, which you can drag and resize to anywhere on your screen. You can also record from a webcam. When you're ready to start recording, you click the record button, and all action inside the frame is recorded for up to 15 minutes. You can also pause or restart your recording, and you can upload it to YouTube or save it as a video file.
Upgrading to a Pro account, which costs $15 per year, gives you additional features, such as editing tools to cut, zoom and add text overlays to your recordings. A Pro account also lets you publish to Google Drive, password-protect your uploads and run the recorder outside your browser when you're offline.
Like Office Mix, Verso is another free tool that lets you add interactivity to your presentations. Available as an iPad or Android app, Verso makes it easy to push content to your students and gain some visibility into their questions and understanding before the next lesson.
You can create what Verso calls a "flip" using video, audio or photos that you create yourself or pull down from the Web. By clicking on the "class" key, you can open a class discussion space and invite students to participate. You can also push content and questions to students with one click, view their responses in real time and star the best responses for further discussion in class.
This multiplatform app "is so simple, and yet so profound," Bergmann said. "You upload a 'flip' to your learning management system, which could be a video but also a PDF or any other asset, and there is a very simple box in which you can put a prompt. It's like a discussion board on steroids. Students can see one another's responses, and they can respond to one another's responses. And you can have this great discussion."
Plus, "it's all anonymous," Bergmann added. "It's not like the kid who always raises his hand gets all the attention, because nobody knows who it is. But it's not anonymous to the professor, who can see what each student is saying. The professor can also group students together and prompt them with another question, to continue the discussion and take it to the next level."
Dennis Pierce is a freelance writer with 17 years of experience covering education and technology. 
Click HERE to view the original article
---
May
2015   

Jon Bergmann moderated and spoke at the Tech & Learning Conference in Chicago
Blended Learning for Maximum Impact
Jon 

Bergmann

Moderator

Dale Loggins

Teacher – Chicago Public Schools

Joe Taylor

Dir. of Instructional Technology – Deerfield HS (IL)

Dr. Kecia Ray

Keynote Speaker – Case Study on Nashville's District
---
May
2015   

Jon Bergmann wrote an article for the May 2015 edition of eCampusNews.com
Because We Need to Reach Today's Generation
When I first started teaching in 1986, the resources I had available to me were limited to: a box provided by the publisher of my textbook, a three-ring binder of curriculum provided by the district, and/or whatever I had in my head.  Contrast this with 2015, where teachers not only have publisher materials and their own learning, but also a plethora of online information, simulations, lesson plans, and videos.
Should teachers embrace elements of online teaching into their daily practice or can they afford to teach out of "the box"?  In 2014, Project Tomorrow did a survey of over 500,000 parents, students, teachers, and administrators.  They included a few quesitons about how flipped learning, a teaching method which uses teacher-created online videos to maximize face-to-face time, should impact schools.  The survey found that:
"School administrators are expecting new teachers to know how to flip their classrooms prior to completing their certification process.  Last year, 41 percent of school leaders indicated that pre-service teachers should "know how to set up a flipped learning classroom," this year that incrased to 46 percent."
This survey shows that there is an expectation that educators be prepared to teach in new and innovative ways – specifically utilizing flipped learning methodology.  Teachers must employ instructional techniques which engage students in the process of learning.
We stand at a powerful moment in the world of education, where educators can leverage technology to bring about personalized learning for every student.  The ultimate winners in this new era will be the students.  Let's face it: we are teaching the YouTube generation.  Online media is out there and it is ubiquitous for our students.  The time is now to embrace digital learning as a means to reach today's generation.
Click HERE to view the original article on page 7
---
May
2015   

Quotes from Dr. Doug Green regarding our recent Blog post + Book review
Dr. Doug Green has been an educator since 1970.  After teaching chemistry, physics, and computer science, he became an administrator for the next 30 years with experience at the secondary, central office, and elementary levels.
"When a teacher uses the flipped mastery system and gets 100% passing on the state test, all educators should take notice.  If you/your teachers haven't started to flip yet, it's time to start."   ( Click HERE to read the complete original blog post )
"Flip Your Classroom: Reach Every Student in Every Classroom Every Day by Jonathan Bergmann and Arron Sams (©2012, International Society for Technology in Education: Washington, D.C.) is a must read for anyone interested in flipping their classroom. It provides a window into a flipped classroom led by two educators who were driven by a simple question:  What is best for the students in my classroom?" This book chronicles their journey from their first shaky steps at trying to flip>/em> their classrooms to their current best practice so far flipped-mastery classroom model. Learn from their mistakes so that you can make new mistakes, and then share what you've learned to improve the model for all. Learn how flipping produces better test results and better learning. Also learn how it will allow you to interact more often with your students and develop more personal relationships."
---
April
2015   

FlippedClass.com signs a Memorandum of Understanding with Dr. T.C. Kao at Chung Hsin Academy in Taiwan
"After visiting Chung Hsin Academy in November and December of 2014, the team at FlippedClass.com were excited to meet a like-minded innovative educator like Dr. Kao.  Upon visiting the school and meeting with the school's leaders, we were impressed with Dr. Kao's vision to use Flipped Learning techniques to innovate the processes of teaching and learning.
The FlippedClass.com team is excited to partner with Chung Hsin Academy to create a customized FlippedClass.com Certification program with the hope of certifying this school as the first FlippedClass.com Certified school in Taiwan.
It is our joint vision that our partnership with Chung Hsin Academy will be the model for other Taiwanese schools and serve as an example of what exemplary Flipped Teaching looks like.
The team at FlippedClass.com looks forward to implementing a long-term plan with Chung Hsin Academy to train teachers, consult with staff, and inspire students to pursue deep and meaningful learning by utilizing the Flipped Learning model of instruction."
---
| | |
| --- | --- |
| April 2015 | FlippedClass.com partners with Knowledge Delivery Systems to provide educators with groundbreaking Flipped Learning online course. |
Flipped Learning pioneers Jon Bergmann & Aaron Sams share their expertise in a dynamic new online course with videos of teachers flipping their classes, expert advice, and interactive activities.
TO REGISTER FOR THIS COURSE, CLICK HERE
NEW YORK, NY (April 21, 2015) Knowledge Delivery Systems (KDS), a leading provider of strategic and blended professional learning solutions for states and school districts, has announced today a partnership with flipped learning pioneers Jon Bergmann and Aaron Sams, co-founders of FlippedClass.com, a leading global provider of flipped learning training services.
"The Flipped Classroom: Personalizing the Classroom to Reach Each Student Every Day" provides grades 6 to 12 educators with instructions for flipped learning.  This three credit course explores the pedagogical approach in which direct instruction moves from the group learning space to the individual learning space, and the resulting group space is transformed into a dynamic, interactive learning environment. Topics and activities in the course include:
Flipped learning techniques and Common Core instructional shifts
Examples from actual classrooms about a day in the life of a flipped classroom
Going deeper with flipped learning strategies in the classroom
How to get buy in from key stakeholders and address points of resistance
Organizing lessons with formative and summative strategies that work best with Flipped Learning
Troubleshoot specific issues unique to the Flipped Learning methodology
"Flipped Learning workshops are often taught in lecture style. This online course flips the flipped class training. Our interactive features allow the participants to learn by doing. In my opinion, this is the next best thing to having us come to do an on-site workshop," said Bergmann.
"This intensely practical course gives participants a roadmap to implement flipped learning.  It is filled with videos of real teachers and advice from us about best practices.  This course is done in a completely online environment which mirrors many flipped learning principals," said Sams.
"Districts across the country have made significant investments in personal technology for students and teachers. Partnering with Jon Bergmann and Aaron Sams of FlippedClass.com allowed us to develop a rigorous and scalable online professional development solution," said Alvin Crawford, CEO of KDS. "Through this course, districts can cost-effectively prepare all their teachers to implement this innovative blended learning model into their classroom and maximize student engagement and learning."
About FlippedClass.com
FlippedClass.com delivers effective flipped learning training solutions to schools, districts, associations, governments and organizations around the globe. Co-founders Jon Begrmann and Aaron Sams, along with a team of flipped learning experts, travel the world to share best practices for creating learner-centric classrooms that enable teachers to maximize their class time. Bergmann and Sams have co-authored several books on flipped learning topics that include a series of subject specific books about how to flip science, math, social science, Language Arts and elementary classrooms.  Former educators, Bergmann and Sams are commonly regarded as the flipped learning pioneers. For more information about the training and consulting services offered by FlippedClass.com as well as upcoming flipped learning conferences, visit www.FlippedClass.com.
About Knowledge Delivery Systems
Knowledge Delivery Systems (KDS) is the leading provider of research-based, blended-model strategic professional development solutions for districts, schools, and teachers. KDS was founded nearly 15 years ago to help school districts and states transform professional development to dramatically improve teacher effectiveness and raise student achievement. KDS builds district-wide system solutions and high quality online courses that are developed with the nation's leading education experts and researchers to address educators' most important challenges in the classroom. Today these courses are delivered through KDS' Professional Learning Platform (PLP), which leverages the best of learning communities to make educator learning engaging, convenient and social. For more information, visit: http://www.kdsi.org.
###
---
| | |
| --- | --- |
| April 2015 | Aaron Sams gave the keynote presentation to over 700 teachers and administrators in Shanghai with an additional presentation in Taiwan. |
International Forum for the Fourth Shanghai International Magnolia Teaching Forum: "Changed Learning for a Better Future"
International Forum for Taiwan Chung-Hsin High School: "How Flipped Learning Helps Students to Learn"
Dear Mr. Aaron Sams,
We are pleased to invite you to The 4th Shanghai International Magnolia Teaching Forum (Shanghai Hongkou District People's Government) and CHHS (Chung-Hsin High School) scheduled on April 17th through the 21st of 2015 at the Shanghai Hongkou District People's Government in Shanghai, China and at the Chung-Hsin High School Hsinchu, Taiwan.
We are especially interested in your expertise in how to organize the flipped learning classroom and conduct flipped learning activities that promote self-learning capability. It is an honor and privilege to invite you once again to participate as Keynote Speaker. We believe that your contribution to this field is unparalleled and a presentation on this topic will be of great benefit.
Shanghai international forum will appeal to principals, administrators and educators from Shanghai、Beijing and several countries. More than 700 people will attend this forum. CHHS forum will appeal to principals, administrators from Taiwan schools. More than 70 people will attend this forum. We know how much these educators want to know more about your experiences and know-how, and apply them to their educational careers. We believe that you will be very inspiring for all educators in Shanghai and in Taiwan. 
With our warmest regards,
Bill Yu
CEO, iSchool Inc.

| | |
| --- | --- |
| April 2015 |   Jon Bergmann gave the keynote presentation to over 1,000 educators at HCT conference in Dubai |
Source:  Zawya.com
The Higher Colleges of Technology (HCT) Reinforces UAE's Smart Technology Initiatives at 3rd Annual Mobile Learning Conference
The Higher Colleges of Technology (HCT), the UAE's largest higher education institution, showcased its leadership in the integration of mobile learning and technologies in education, when it inaugurated its Third Annual Mobile Learning Conference at the HCT-Dubai Men's College this week.
This year's conference, held under the theme of Towards a Smarter City, focuses on the impact of mobile technology on learning and society, and was convened with the full support and involvement from the Dubai Smart Government and the Watani Al Emarat Foundation. The opening day was comprised of 50 highly informative sessions and workshops.
The highly interactive event saw over 1,000 educational and technology experts from the HCT gather with representatives of UAE-based schools and post-secondary institutions, agencies and allied industry professionals, trainers and managers to share and discuss ideas and developments relating to the practical implementation of mobile and technology-based learning in the region.
The conference featured the GCC's first ever mini MOOC (Massive Open Online Course). This will be online from April 6-9, 2015 and is free and open to the world. The HCT's mini MOOC will consist of online workshops and discussion boards presented and moderated by mobile learning experts from around the globe. It was implemented by HCT to actively illustrate the changes in mobile learning and explore what is being achieved by the online courses. The mini MOOC can be accessed at calmdwc.com/lbd/lms/
The speakers for the conference's opening day included:
HE Ahmed Bin Humaidan, Director General of Dubai Smart Government
Jon Bergmann, Chief Learning Officer of FlippedClass.com
Peter Ingle, Head of Sales for Panopto, EMEA
HE Ahmed Bin Humaidan spoke about the programmes being developed by Dubai institutions to process transactions with the public and also introduce smart solutions in all government dealings, in line with the vision and initiative of HH Sheikh Mohammed Bin Rashid Al Maktoum, UAE Vice President & Prime Minister and Ruler of Dubai, to provide a world-class smart government in Dubai.
In delivering the conference's welcoming address Dr Abdullatif Al Shamsi, Vice Chancellor of the HCT, praised the UAE's strong leadership in promoting a knowledge economy. "We are very grateful for the ongoing support of the Dubai Smart Government and for the leadership and encouragement of His Highness Sheikh Mohammed Bin Rashid Al Maktoum, Vice President and Prime Minister of UAE, and Ruler of Dubai," he said.
"This year's conference highlights all the technological developments that are useful in enhancing the experiences and skills of HCT students. Students globally demand innovative practices of teaching and learning and we must follow our Government's lead and keep pace with developments in technology," Dr Al Shamsi added.
The HCT Vice Chancellor noted that the conference reflected HCT's ongoing commitment to excellence in education and focus on successful student learning outcomes in technology and innovation. "This commitment to the integration of mobile learning pedagogies have touched the interests and passion of the so called the 'iPad generation' which makes learning more exciting and therefore increased student engagement and retention," he said.
"We are very proud of our commitment to providing our students with a technology-enhanced learning environment equipped with cutting-edge devices and practices. It is important that we continue to seek out and implement best practices in education, including mobile learning," Dr Al Shamsi said.
"It is pleasing to see that this conference is taking the next step in information delivery by offering the workshops online throughout the conference – allowing for learning and interaction wherever people are located, which is very important for students," The Vice Chancellor added.
In his plenary address Jon Bergmann, who is considered one of the pioneers in the Flipped Class movement and is a co-founder of The Flipped Learning Network , showcased the international contemporary vision for transformation into smart learning in the classroom and programmes designed for promoting student interaction. A highlight of Mr Bergmann's presence during the conference was his presentation of a bespoke workshop on flipped classrooms for HCT's Emirati faculty members in the first afternoon session.
Peter Ingle, a distance communication expert, spoke in the second plenary session about the experience of Oxford University in the use of distance communication and the use of 500 other universities and colleges.
The conference's 50 sessions and workshops, held on the first day, shared ideas and experiences in relation to the practical implementation of mobile technologies in education and society in general. Some of the session topics included:
Blogging in the Classroom
Create Websites and ePortfolios in Minutes on Your iPad
Creating "Live TV Style" Educational Video Podcasts
Paperless Classrooms
Using Video Streaming as Powerful Means for Enhancing Learning
Using e-Texts in Blackboard Learn to Enhance Student Engagement
Classrooms on the Go
Dr Saoud Al Mulla, Director of the HCT-Dubai Colleges, said: "The HCT believes that smart cities and a smart business environment emerge from smart learning. This is why the conference focuses on the factors that led to the prevalence of mobile learning worldwide. The conference will discuss the new concepts and features in the fields of academic technological advancements, in addition to the advantages of their utilization by UAE companies and institutions. The conference also gives proposals for overcoming challenges in this rapidly growing field."
The conference also witnessed enthusiastic and active student participation from students enrolled in the HCT's Faculty of Computer Information Science, both as delegates and as workshop presenters.
| | |
| --- | --- |
| April 2015 |   New Workbook Published:  Flipped Learning for Science Instruction |
Building on their best-selling and landmark book, Flip Your Classroom: Reach Every Student in Every Class Every Day, flipped education innovators Jonathan Bergmann and Aaron Sams return with a workbook series that supports flipped learning in five topic areas:  science, math, English, social studies and, the elementary classroom.
In this new workbook, the authors enlighten us on how we can successfully apply the "Flipped Classroom" model to teaching science — both in the classroom and in the lab, as well as how to teach science employing inquiry-based and project-based learning techniques.
To purchase this workbook, click HERE.
| | |
| --- | --- |
| March 2015 |   Scholastic.com article:  Aaron Sams:  The Truth about "Flipping Out" Curriculum |

Aaron Sams has become synonymous with Flipped Learning around the world. An award winning educator who speaks and consults on new learning designs took time to debunk myths and update us on how Flipped Learning is becoming common practice in schools all over the world.     
Dr. Rod Berger: From the outside Flipped Learning appears to have been generated from the educator and in response to antiquated delivery systems and experiences in the classroom for both teacher and student. How can we include administrators, in the process, so that the entire school embraces new methods for educating students?
Aaron Sams: You are right. Much of the Flipped Learning wave has come from the ground up. From teachers in classrooms. However, we are reaching the point where the early adopters and innovators are soaring, and these teachers are the ones who often try new things in their classrooms without seeking support from outside sources first.
They see something that will meet the needs of their students, and they act. The next wave of interested teachers are currently emerging. This next group seems to want to try flipping techniques with the support of their administration, and this is a great opportunity for administrators to get involved.
Any successful school change comes from teachers who buy into a concept with support from the top. I can't think of any successful programs or ideas that work when teachers are not convinced that something is worth doing, or when administrators issue a dictate that does not seem relevant to the teachers. Only when both groups agree and support each other can a change be effective.
So if an administrator wants more teachers to try Flipped Learning, there is an education and training piece that needs to happen first. I hear there are a couple books out on the subject 🙂
RB: Help me understand fact from fiction. What are the top 3 myths about Flipped Learning that you have to debunk and why do you think those myths continue to dot the landscape?
AS: Myth 1: I can't flip because I have students without internet and computers at home. Many teachers in impoverished areas are flipping their class. In fact, some entire schools with 75-100% free and reduced lunch are flipping. Don't let access be your "out", solve the problem! Write a grant, find some old tech, partner with local business to provide internet access at their store or restaurant. Access is a legitimate concern, but it is not an insurmountable hurdle.
Myth 2: My kids wont watch the video at home. Ok, I get it, not all kids do homework. We ALL have that struggle. Any teacher has techniques and processes to get reluctant learners to participate, and this is no different. Use those techniques to encourage students to do their out of class work.
My experience has been that more students are actually capable of doing this sort of homework than are capable of doing traditional homework. Look at this in terms of cognitive difficulty: which is easier for a student to do on their own, watching a video or applying what has been "learned" in class? I think many students don't do homework because the can't, not because they don't want to.
Any student can watch a video, and any parent can help to ensure that happens. Not all kids can solve complex chemistry problems or write reports on their own without the support of their teacher, and not all parents can assist with those tasks either. Flipped learning levels the playing field for kids without support at home.
Myth 3: You have to give homework in order to flip. Some teachers are doing what is being called the "in-flip" in which they are using video as a teaching tool in class. In these cases the videos are being delivered to individual learners rather than to a whole class. That's important because the entire premise of Flipped learning is that students have control of the pace at which they consume content.
The power in flipping is not in video, we've been showing videos in classes for decades, the power is in giving students control over their learning. Other teachers are implementing an asynchronous classroom environment in which students view video content whenever they are ready for it next, rather than outside of class. This, always leads someone somewhere to say "well, that's not flipping!" To which I respond by encouraging us not to get bogged down with semantics.
Use video when it is appropriate in order to get the teacher away from the front of the classroom in order to help students take responsibility of their own learning. Call it what you like. As for why these misconceptions persist, I have absolutely no idea. Many of us have written articles and books addressing these common concerns, but the questions still come up at every single workshop or presentation I give.
RB: Might there be rationale to employ Flipped methods in areas where the administration and staff intersect? Could we not set the conditions, even for staff meetings, to actively engage all parties and thus drive buy-in?
AS: Absolutely! If an administrator wants her staff to flip, she should model the process in staff meetings. Regardless of wether it is a teacher or an administrator flipping, we encourage everyone to ask one questions: "what is the best use of the face-to-face time with my students/staff?" I can guarantee you that "information transfer" is probably not the correct answer to that question.
Piling 100 of the most valuable resources (that's your teachers) into the library on a Thursday afternoon to tell them about new policies or decisions that have already been made is not a good use of anyone's time, and it inevitably leads to a handful of outspoken teachers loudly complaining about these decisions which are unlikely to be changed at this point.
I've sat in those meetings, and I'm usually thinking about how I would much rather be in my classroom preparing for my students or working on something more productive. But this is your brain trust.
You have these times blocked out as staff meetings, and everyone has to be there, so why not offload the information transfer to video (or even just an email!), and get your amazing teachers and staff solving problems, developing solutions, creating, and improving the school in whatever way is appropriate.
RB: Let's talk about supporting the Flipped Classroom. What supports do teachers need from their administrations to successfully integrate these practices?
AS: They need the 4 Ts: Thinking, Technology, Time and Training. Thinking: Teachers have to be convinced that this is a good idea.
Technology: They need the tools for the job (computer, software, video hosting site…which means you need to stop blocking YouTube, and an LMS).We have a list of these tools on our website.
Time: Give teachers time to collaborate and to create video content. It's not easy, nor is it quick, and only the administration can control this aspect, so give them time.
Training: provide them with appropriate professional development. Jon and I provide this, and you can find more information or educators can join our online PLC.
RB: If we were to peer down the hall to see the future of Flipped Classrooms what might we see on the horizon and what should we be prepared for?
AS: I think creating video as a teaching tool will soon be about as novel as using a pencil as writing tool.
It's becoming so easy to produce video that it's almost not worth discussing in the near future. However, passive viewing of video content is not helpful for the learning process, and I'm excited to see a lot of tech tools that are being built to promote interaction with video content.
Also, I'm seeing Flipped Learning as a transitional tool for teachers. This is something any teacher who finds himself stuck at the front of the class delivering a lot of content can use to begin transitioning to a student-centered classroom rather than a teacher-centered classroom. Flipping is a starting point, not an end point.
| | |
| --- | --- |
| February 2015 | eCampusNews.com article:  How to Go Beyond the Basics of Flipped Learning |

How three different educators are going beyond basic flips with innovative strategies
This is not your mother's Flipped Learning.
Often thought of as an instructional method whereby students watch online instructional videos at home and come to class prepared to do "homework," Flipped Learning has come a long way since its origins in 2007.
The concept has since evolved to include myriad instructional methods that take the basic concept and go further in method to turn traditional higher educational learning models on their heads.
"Professors are starting out with basic classroom 'flips,' and then moving into deeper learning pedagogies," said Jon Bergmann, chief learning officer at FlippedClass.com and a pioneer of the innovative teaching concept, "including deeper project-based learning and flipped mastery models (i.e., where students prove that they learned a specific concept and then independently move onto a new module)."
While Bergmann still sees the original "view video at home, do homework in class" model as a good starting point for new Flipped Learning adopters, he says educators are helping students interact with those videos and gain understanding from them. "It's not just about assigning a video and hoping that the class watches it," says Bergmann. "It's about getting to the next level and truly engaging students in class, and in a way that positively impacts the learning experience."
( Click HERE to view the entire article ).
---
| | |
| --- | --- |
| February 2015 | The Stile Book Club recommends reading Jon & Aaron's second published book, "Flipped Learning: Gateway to student engagement" |
Here is an excerpt from their book review:
"Worth a read?     In a word: yes.
The numerous teacher reflections along with the introduction by Bergmann and Sams that introduces flipped learning and addresses misconceptions about the concept make a compelling case for what is rapidly changing the education landscape.
The selection of reflections is varied, from the usual high school science teachers in relatively affluent school districts to to primary school teachers in disadvantaged areas, and almost everyone in-between. There's something for everyone. However, I wish I'd read Flip Your Classroom first. We've ordered our copy and will be reviewing it soon!"
( Click HERE to view the entire article ).
---
| | |
| --- | --- |
| November 2014 | Jon was interviewed in a featured TV segment called "Learning World" that was broadcast worldwide by Euronews.  The segment also featured Flipped Learning teachers from Warren Township High School in Gurnee, IL |
| | |
| --- | --- |
| |                     Click on the picture below to view the interview on the Euronews website |
---
| | |
| --- | --- |
| November 2014 | Aaron was interviewed by host Darieth Chisolm on the iQsmartparent TV program  (WQED-TV   /   PBS ) |
| | |
| --- | --- |
| |                     Click on the picture below to view the interview on the PBS website |
---
| | |
| --- | --- |
| October 2014 | Jon and Aaron were honored at the 2014 Bammy Awards for "standout contributions" to the flipped classroom movement.  Click here to view the press release. |

Photo credits:  Bammy Awards staff photographer
---
---
July 2014  –  Jon was interviewed by TJ Holmes on MSNBC
You can get more links to Flipped Learning in the Press by going to Jon's nonprofit organization:  Flippedlearning.org